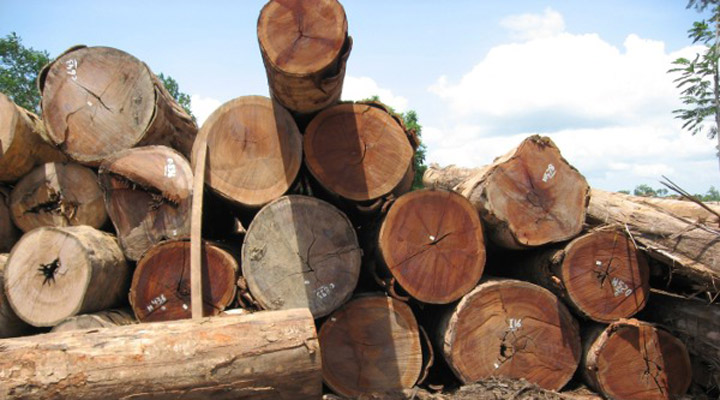 Prized for its straight grain, golden brown hue, and high degree of water resistance, Teak wood is a highly sought-after species for applications ranging from siding and decks to high-end yachts. Obstacles to sourcing Teak include a limited growing range of old-growth Teak combined with political quandaries; however, J. Gibson McIlvain currently maintains its position as the largest importer of Teak lumber in the U.S. and currently maintains an inventory to meet any of your Teak needs.
Teak Appearance
Freshly milled Teak can appear streaky and uneven — far different from the consistent golden color for which it is well known. Over time, its appearance mellows due to exposure to sun and air. The gorgeous coloring of Teak combines with its consistent, straight grain, to allow it to promote matching across wide surfaces, such as decks and cover boards for yachts.
Teak Characteristics
Combined with its consistent and attractive appearance, Teak's other characteristics help explain its popularity. For one thing, it's quite durable, even when exposed to the harshest natural adversaries. The water-resistant nature of Teak is thanks, in part, to the sandy soil in which old growth Teak grows. The silica content of the soil naturally extends to the wood fibers. In addition to the silica content, the natural oils of Teak make it nearly water proof. That same oil content helps repel insects. In addition to its durability, Teak's strength and high degree of stability allow it to retain its shape after milling and perform well in areas of close clearances.
Teak Applications
Thanks to its water resistance and high stability, Teak has long been a favorite for exterior applications, such as docks and yachts. At the same time, Teak is definitely not limited to those settings: the species is now being used for inland applications such as siding, decks, and windows as well. In fact, the extremely specific requirements of the boat-building industry help make above-grade Teak available to other builders who wouldn't otherwise be able to source this unique species.
Teak Drying
As you shop for Teak, you want to be sure to ask if it has been re-dried. Like other kiln-dried exotic species, Teak is usually dried to the European standard of between 12 and 15% moisture content, which is acceptable for exterior applications. For interior applications or those requiring great precision, you'll want your Teak to be re-dried to a moisture level between 6 and 8%.
Teak Sourcing
In today's highly volatile Teak market, sourcing can be a concern. The U.S. Department of Treasury has granted a limited license to IWPA members, allowing them to purchase Genuine Burmese Teak. J. Gibson McIlvain continues to lead the country as a Teak importer, even while other suppliers run low. At the same time, though, we cannot be sure when FEQ Burmese Teak will become entirely unavailable here in the U.S.
At present, J. Gibson McIlvain has a significant inventory of Teak, in a wide range of lengths and thicknesses, including extra-long and wide boards in excess of 20 feet long and 24 inches wide.